Pakej "Jom Bercuti Di Ipoh"
Pakej "Jom Bercuti Di Ipoh" offer the best price at RM 358.00 nett inclusive of accommodation with breakfast & city tour
For enquiries, please contact -
Alfred 016-501 0187
Lanny 016-526 6676
Atilia 016-546 9758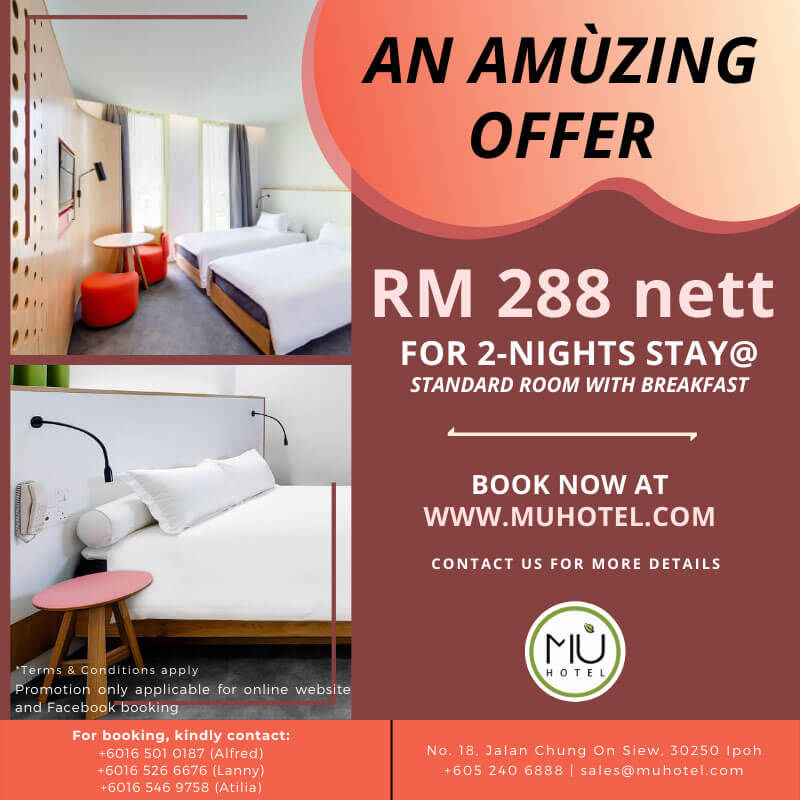 MÙ Hotel is offering An AMÙZING package at RM 288.00 nett for 2 nights stay at Standard Room with breakfasts and welcome gift!
Booking & Staying period from now until 31 October 2020.
For enquiries, please contact our Sales at:
Alfred 016-5010187
Lanny 016-5266676
Atilia 016-5469758
MÙ Meeting & Accommodation Package
Residential Package
Single Basis @ RM198 per pax per day
Twin Sharing @ RM148 per pax per day
Package inclusive of :
×1 Standard Room night stay with breakfast
×1 Full-day function room usage
×1 Lunch & ×1 Dinner
×2 Coffee/Tea Break with snacks
Usage of registration table, flipchart, drinking water, pencil & memo
Usage of LCD Projector & white screen
Non Residential Package
Half-day meeting with 1 Coffee/Tea Break @ RM25 per pax
Half-day meeting with Lunch @ RM35 per pax
Full-day meeting with Lunch & 2 Coffee/Tea Break @ RM60 per pax
Terms & Condiitiions
Rates quoted are nett prices
Minimum of 30 pax required
Hotel reserves the right to make neccessary reparation for Buffet/Set Meal based on number of partiicipants.
For Further enquiries, please contact (Sales) for :
Alfred @ +6016 501 0187
Lanny @ +6016 526 6676
Atilia @ +6016 546 9758
Play & Stay Golf Package for 2
"Play & Stay" Golf Package for 2 person
Inclusive of One Night Stay at Standard Room with Breakfast
18 holes Golf Package (Booking 3 days in prior)
Contact : Alfred Teh (016-5010187) /  Lanny (016-5266676) / Atilia (016-5469758)
Lost World Of Tambun Package with MÙ Hotel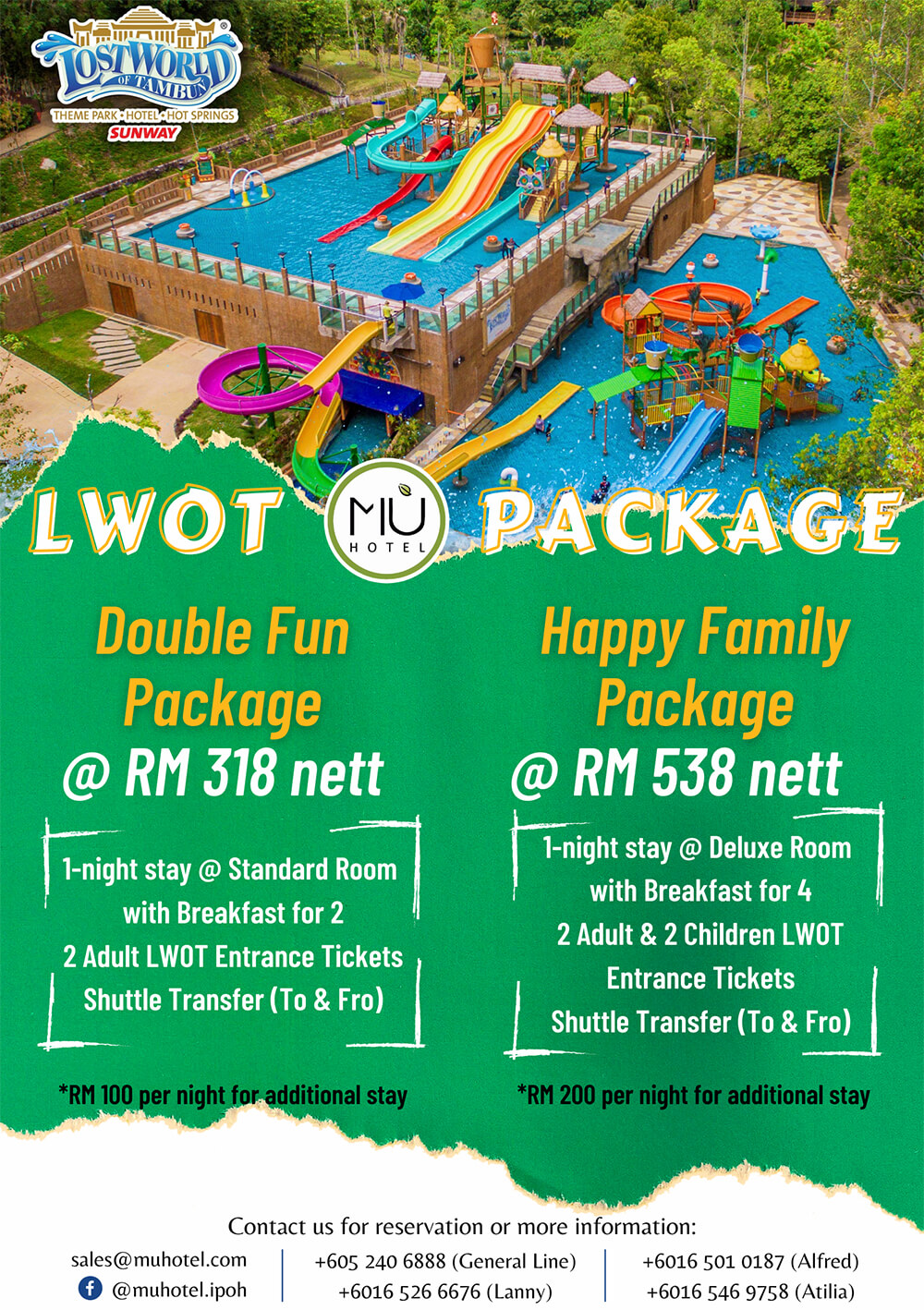 Lost World Of Tambun Package with MÙ Hotel. You will be rejuvenated with a night of rest, safe & sound.
Please contact us for further enquiries!
Contact - Alfred (016-501 0187), Atilia (016-546 5758), Lanny (016-5266676)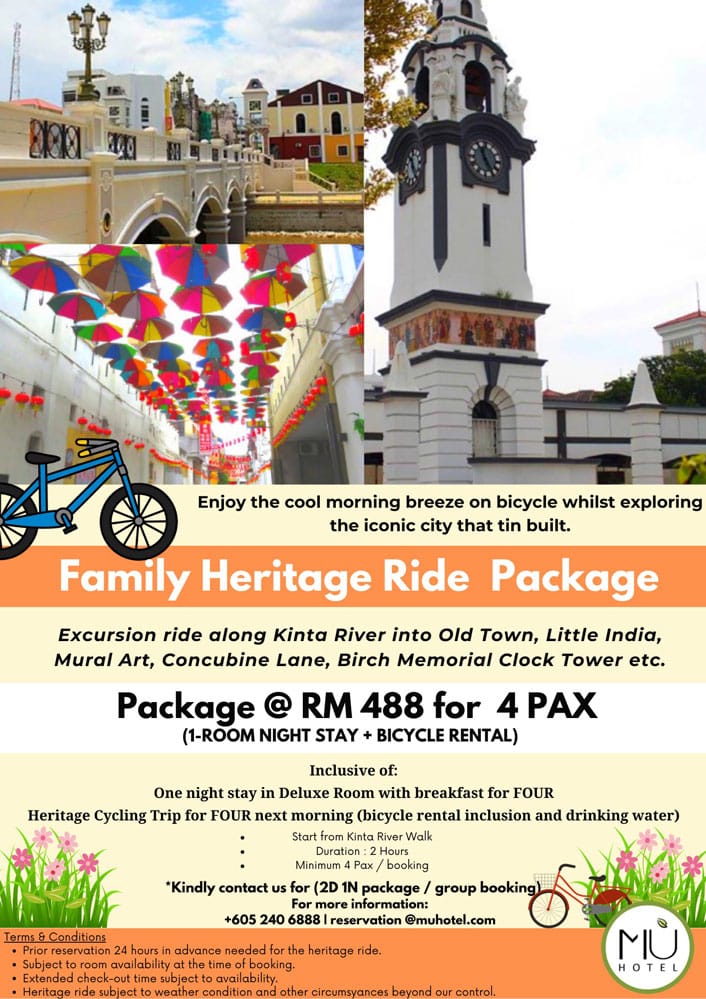 Enjoy the cool morning breeze on bicycle whilst exploring the iconic city that tin built. Cycle around while enjoying the view of Ipoh.
For 2D1N package or group reservation, kindly contact us.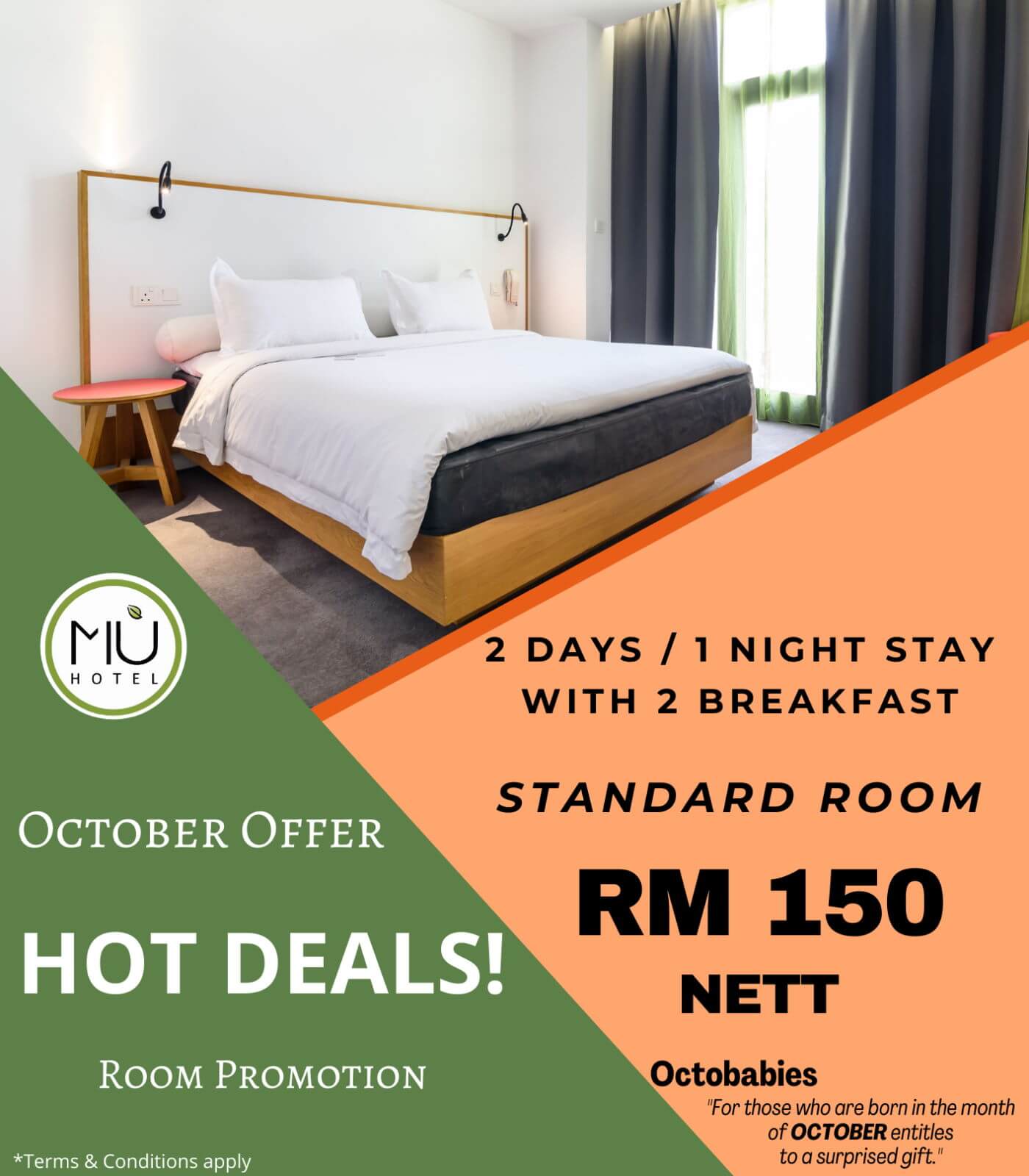 October Room Promotion at RM150.00 nett per room per night with 2 Breakfast & Free Gift for those who are born in the month of October are entitle for free gift upon registration.
For more information, kindly contact us:
Alfred @ +6016 501 0187
Lanny @ +6016 526 6676
Atilia @ +6016 546 9758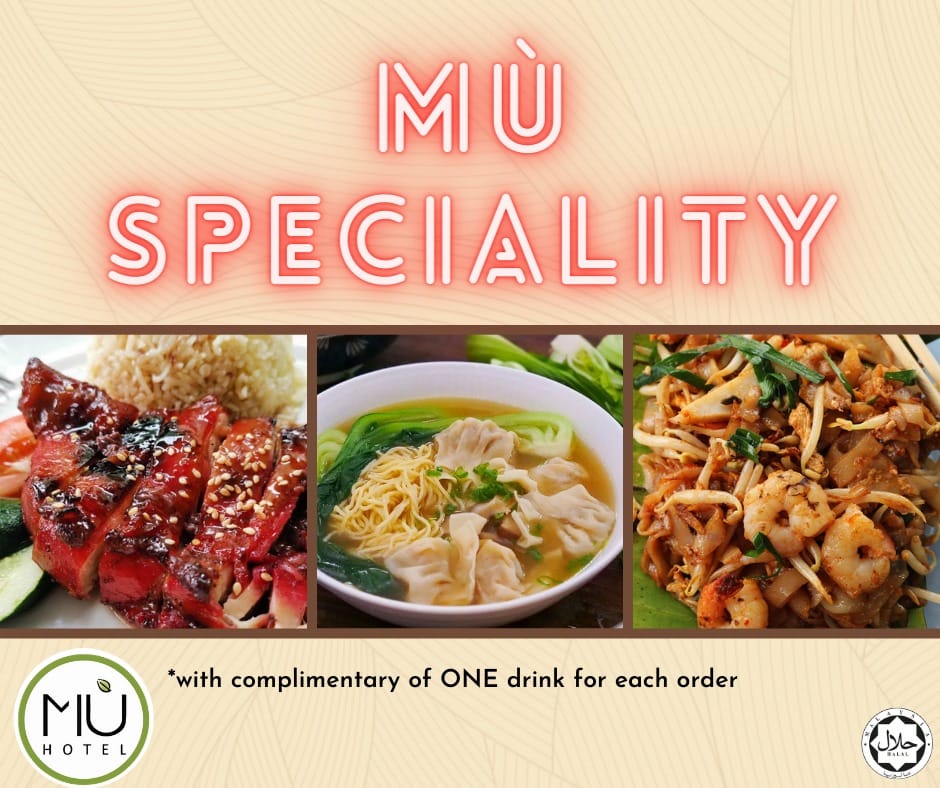 For more information, kindly contact us:
Lanny @ +6016 526 6676
Alfred @ +6016 501 0187
Atilia @ +6016 546 9758